OUR STORY
We're a modern, fast-moving business with an ever-growing roster of international franchises located throughout the Middle East.
READ MORE >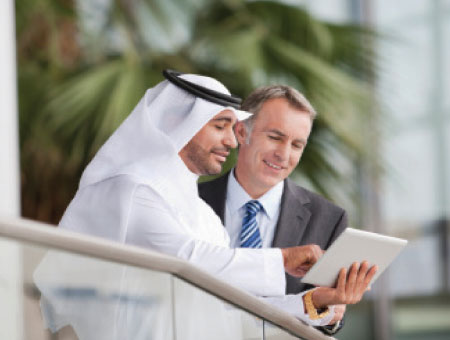 HISTORY
The Jawad Business Group's success story is widely known in Bahrain and the region, but not many know that the saga began over 50 years ago with the ship chandelling business. The journey from those humble beginnings was fuelled by single-minded purpose and a clear vision, and has led to the formation of a business conglomerate with diverse activities, and a trail of significant milestones and many achievements.
Headquartered in the Kingdom of Bahrain, JBG has over many years consistently maintained its leadership position in the Consumer, Retail and Hospitality arena. Over the decades, the Group has transformed itself into a multi-faceted, multi-cultural organization with business interests across the Gulf Cooperation Council (GCC) states, encompassing Convenience stores, Distribution of FMCG goods, Fashion and Footwear, Restaurants - both international and home grown, and a host of focused retail services, including its own Travel Agency and Rent-a-car services, and support services.
Over the years JBG has emerged as the preferred trade and business partner in the region for leading global corporations, well known as a reliable partner with a strong infrastructure and an extensive distribution network, and backed by warehouse facilities and an efficient supply chain infrastructure.
As one of the oldest, strongest and most domestic corporate brands in the Kingdom, JBG has built itself as a true blue-chip corporate, maintaining without compromise its reputation for excellence and commitment to quality, its business standards and ethics and a sound sense of corporate social responsibility.
The Group places great emphasis on the task of nurturing and promoting its product brands, mindful in protecting the equity of the global brands in its care. As a customer driven organization, great emphasis also is placed on listening to customers and being attentive to their needs and requirements.
JBG believes that its success story is the direct result of its people. One of the Group's core strengths has been the instinct to identify the right people to manage the business and bestowing on them a sense of ownership in running the business. As a multi-cultural organization, JBG employs a loyal and efficient workforce of over 5000 people who belong to more than 40 nationalities.
As the years pass, business progresses on a steady upward path, but JBG remains committed to being an organization where decision-making is not hampered by size or diversity. Market realities dictate business decisions, and the nimble footedness and flexibility enjoyed by a smaller organization is carefully maintained. Attention to detail, human values, business ethics and strong relationships continue to govern the modus operandi. Over five decades this remains the company's mantra for success.
THE BUSINESS IN A NUTSHELL
You may not know it but a Jawad Business Group product may be a part of your day every day.
JBG operates over 600 stores across the GCC and growing at a rapid pace. The business has interests in five strategic groups - Convenience stores; FMCG Distribution; Fashion and Home Retail; Coffee Shops; and Restaurants. The diverse and encompassing scope of our businesses provides our loyal customers with products and services as varied as groceries and food products, fashion and footwear for all ages, kitchenware, bed and bath and accessories, and a choice of cuisine from a range of international Restaurant concepts as well as the best travel and leisure products from around the world.
In the Fashion and Home Retail business, JBG holds the franchise for several renowned international brands such as BHS, Mango, Origem, Camaieu, Hobbs, The White Company, Lakeland, Quiz, Origem, Hunkemoller and Tapeàl'oeil. In the Footwear Business, JBG is the licensee for Hush Puppies and the distribution partner for Jansports, New Balance, Hotter Shoes, for all or some of the GCC states.
JBG's Restaurant division runs the franchise for Costa Coffee, Chili's, Dairy Queen, Burger King, Papa John's Pizza and Outback Steakhouse for all or some of the GCC states. JBG is amongst the single largest International franchise partners for Costa Coffee in the world.
Jawad Supermarket, Jawad Metro, Jawad Express and 24 Hours Market Convenience - stores across Bahrain have been pioneers in the business and continue to offer a great convenience proposition in an era of ever mushrooming discounters.
JBG also represents several blue chip brands in its FMCG business such as Americana, Frito Lays, New Zealand Dairy Board, Highland Spring water, KDD juices and dairy products, Tilda rice, Snapple, Kaagi, Perfetti Van Malle, Hershey's, Danone dairy products, Ferrero, Sunbullah food & fine pastries, to name a few in Bahrain and Qatar. JBG also operates its own logistics facility in Bahrain and in the UAE.
BACK TO TOP ∧